Japanese Traditional Architecture – Mabuya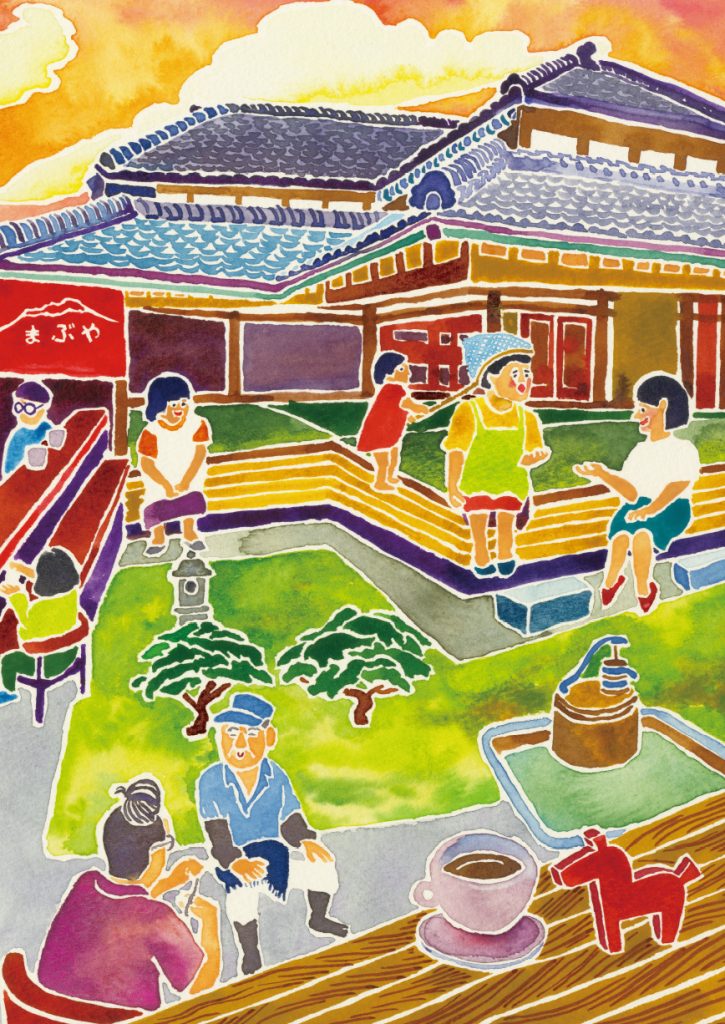 "Mabuya" is a community base in Uwaichi, Daisencho, and since the Mabuchi house was renovated, has become its current location, a lively place where local residents can meet, that is enjoyed by many people.
The Mabuchi House, formerly a hospital, which was constructed close to a 100 years ago had lain vacant for many years. The Mabuchi family is comprised of generations of doctors, and business took place there from 1928 to 1994. It is a building in which Western elements are skillfully interwoven into the detailed areas of Japanese construction. At the time, it was seen as a highly radical structure, and the craftsmen's techniques of the time are evident everywhere. "Mabuya" possesses great charm as a structure. Based on the idea that the building should be left for future generations, a group named "Kizukikai", consisting of UIJ returnees, such as young entrepreneurs, artists, and fishermen whose main point of activity is Daisencho, took the lead in negotiating with the owners of the building, to renovate, and it was revitalized as a community base. This was the start of "Mabuya".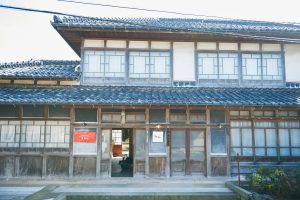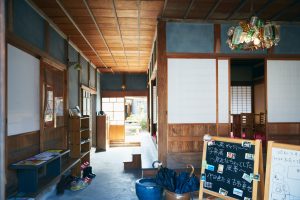 Since 2014, as a base of activities for "Yaraiya Osaka", a regional independent body from the Osaka district of Daisencho, "Mabuya" became a livelier point of communal interaction. In addition to "Mabuya" solely being a point of interaction between people in the region, it became a satellite center and gallery for immigrants, visited by many people from outside the prefecture, and indeed the country, thus increasing links with a wide range of people.
Konomi Kobayashi, of the "Yaraiya Osaka" office currently running "Mabuya"is one such immigrant. She describes a very enjoyable family life, stating "as my husband is from Daizen, I live close to Mabuya. After marrying, we decided to live together in my husband's home. My husband did a U-turn and I did an I-turn. It is extremely lively with four generations living together, from a great-grandfather to my children".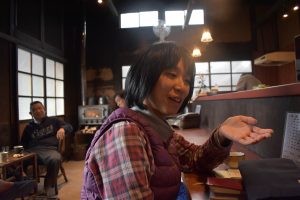 "It is true for Mabuya as well, but while valuing our connections from the past, we also welcome making new connections. Many people feel that way in relation to customers, and this Mabu Café is lively every day."
"Mabu Café" is within Mabuya. This seems to be a place where local people can drink tea and chat with each other every day without needing any prior arrangement. I visited there just before 2pm on a weekday. There were already many people chatting with cups of coffee in their hands".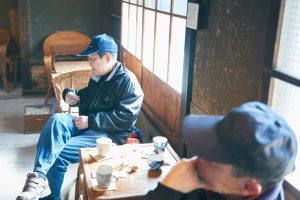 When they approached me in a friendly way, asking "Are you…that person?",I could join in their conversation. "This is fun", I said to Konomi, to which she replied joyfully, "I have changed greatly, on a mental basis, since coming here. Until then, I was somewhat…shy of others (laughs), but now I can speak without building a wall with them". While we were having that conversation, a local person brought friends visiting from outside the prefecture into Mabuya for a visit, and they spent time chatting enjoyably with other local people.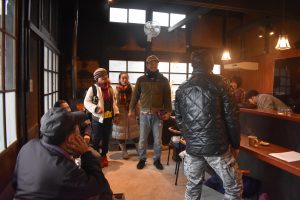 Konomi states, "there are quite a few people visiting from outside the prefecture. We welcome the approach of the "artist in residence", where an artist from another prefecture or other country, stays within the town to produce their work, so the old guys from this region spend a lot of time chatting with the foreign nationals who visit. Of course, they speak to them in the Nakayama dialect (this region was previously Nakayamacho. Now it is Daisencho."
This "Mabu Café" has the one-day manager system, and you can have lunch here every Wednesday. On days where there is no lunch, you can have coffee or snacks. You can have as many cups of coffee as you like for 200 yen! This is provided in a "Fukumitsuyaki" mug as well.
Additionally, there is the warehouse gallery, converted from a warehouse, where you can see different exhibits every month, including works from artists both within and beyond the town.
"Mabuya" is not only an attractive building, but it is also a point of interaction between the various people who made it and the people who gather there. I hope you will have the change to visit this as a point of interaction between travelers and residents.