Mt. Daisen is blessed with immense richness. As a sacred mountain at the very heart of Japanese spiritual belief, its majestic beech forests have been offered a level of protection rarely seen across the nation. These natural filters of air and water provide the mountain slopes and nearby fisheries with an abundance of nutrients, resulting in the finest quality of ingredients and products. Produce of Daisen, ranging from fresh meat, dairy products, vegetables, fruits and more are known as the most luxuriant of goods, the best of the best. The sacred mountain provides the surrounding area with everything it needs for the finest, richest of life.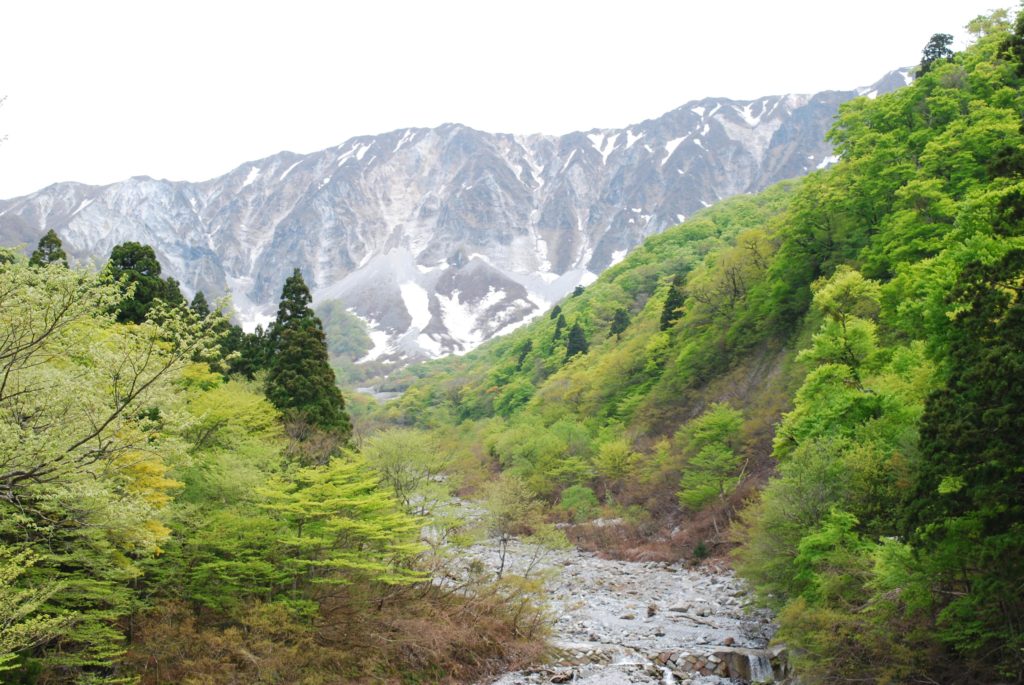 It was with this inherent richness in mind that ITADAKI DAISEN was established as a luxurious place where visitors too can enjoy and indulge in the bounty of the mountain. ITADAKI is a luxury penthouse-style apartment ideally situated to nourish the body and soul. The views from its balcony will take your breath away as you gaze down upon the Bay of Miho and the verdant mountain slopes below. On clear days, you can see all the way across to the
historic Oki Islands, so remote that they once served as a place of exile for cloistered Emperors.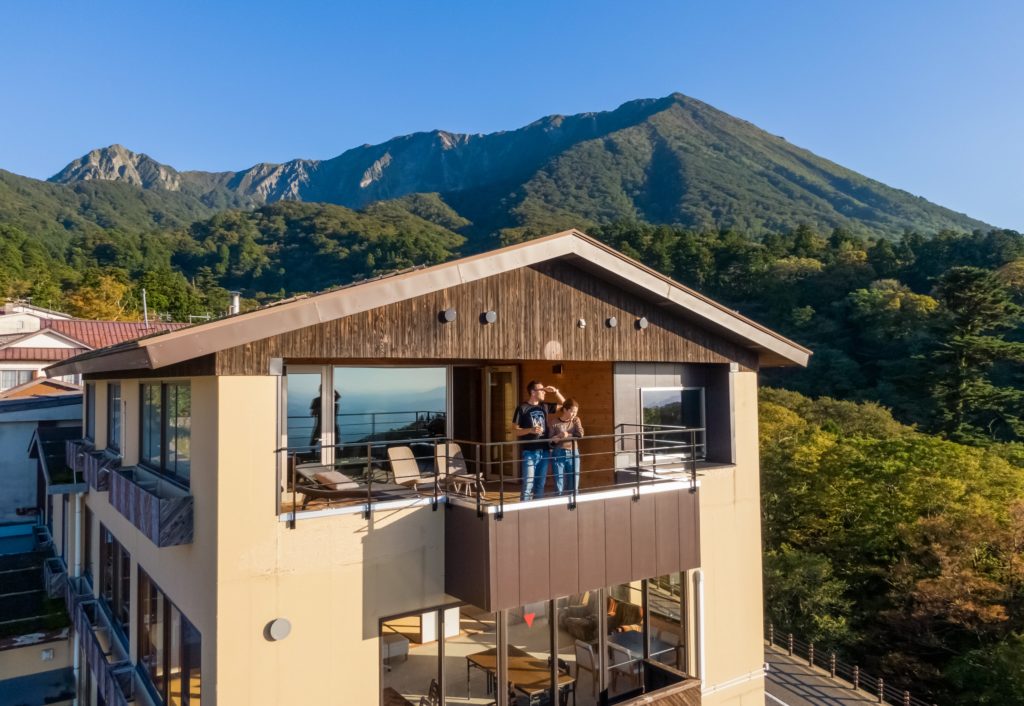 Within walking distance, guests at ITADAKI DAISEN can dine in local eateries which serve dishes made from the finest local ingredients in traditional settings. Hot springs loved by locals and visitors alike can be enjoyed as the stresses of everyday life seep away into the healing waters. The Daisen-ji temple complex, including a magnificent shrine set in a forest, provides opportunity for visitors to thank the Gods as the locals do or pray for future happiness.Enjoy a luxurious stay at ITADAKI DAISEN and invigorate your body and soul.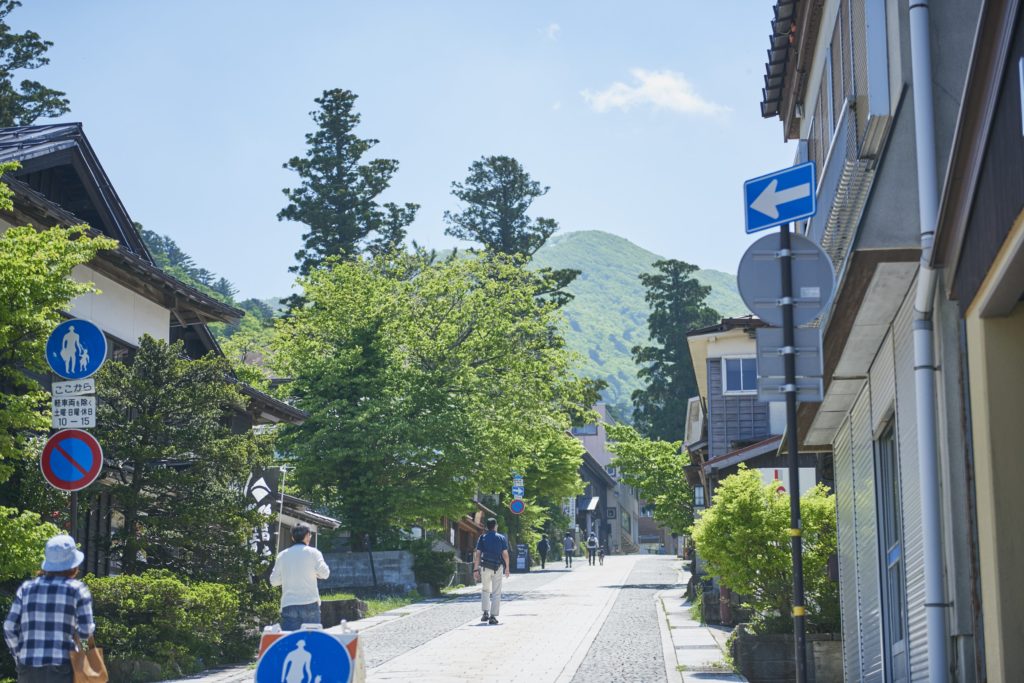 ---
Private Space and adherence to the "Three C's"
ITADAKI DAISEN offers the ultimate in privacy and safety with only one group staying per floor of the hotel at any one time. Furthermore, our staff are always available if you need them but will not come to your room unless invited to do so. You can also be assured that hygiene and safety is our top priority and every surface is sterilized before and after each guest.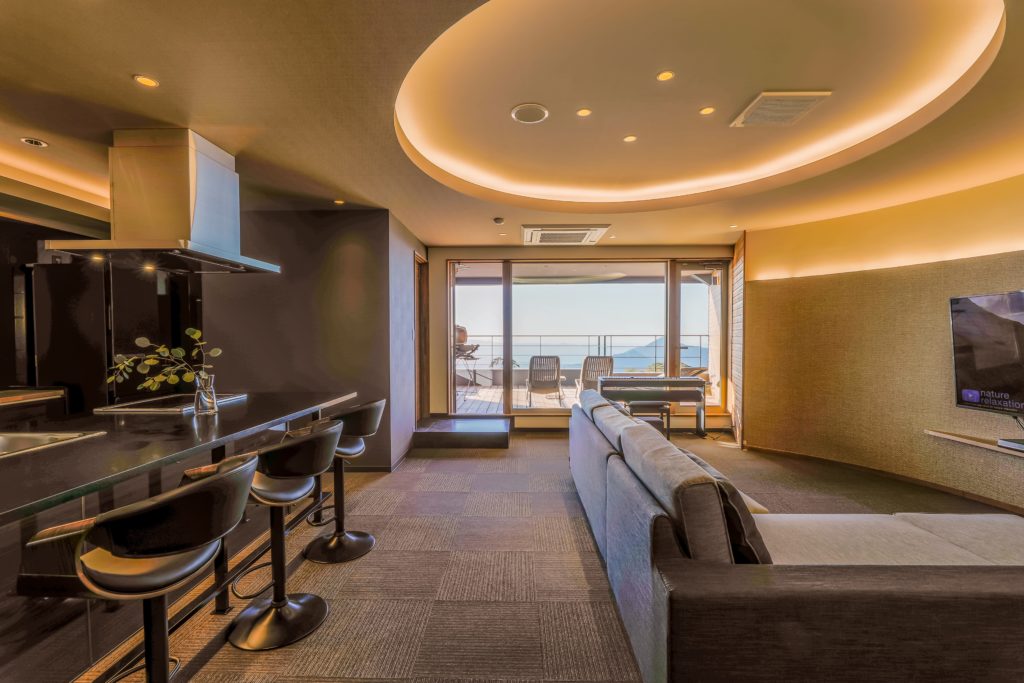 ---
Booking
Book direct with us (through the link/button at the bottom of the page)
---
Check-in
Check-in: 16:00 – 19:00
Check out: 10:00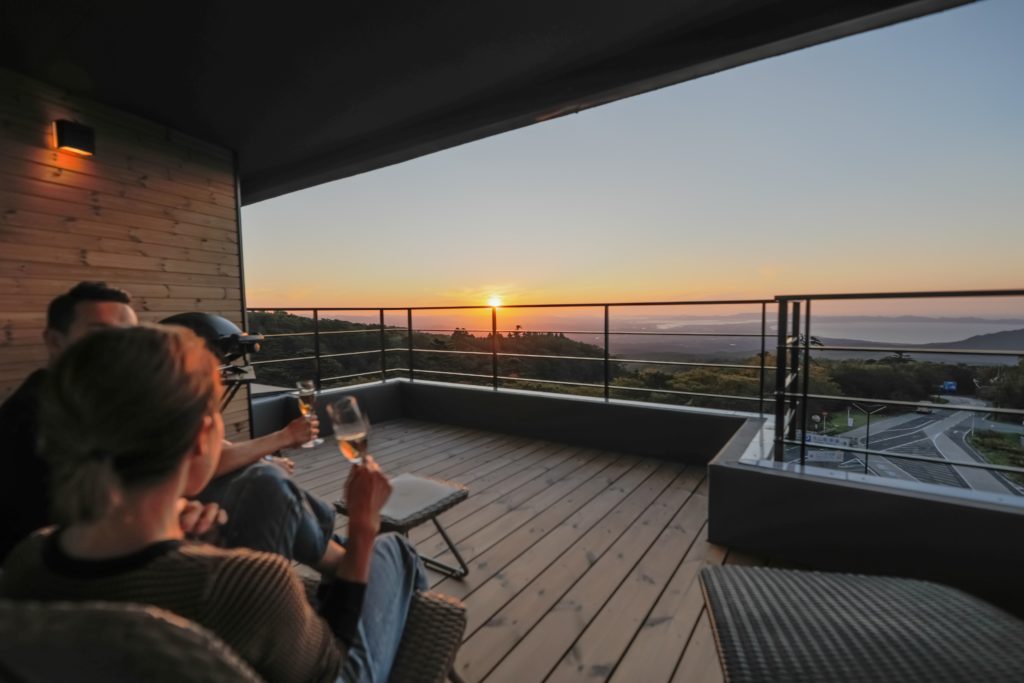 We recommend that you check in before the sun sets so that you can fully enjoy the spectacular view from your balcony. The sun sets directly behind the Mihonoseki Peninsula across the Bay of Miho and the sky is often filled with deep reds and purples.*An early check-in/late check-out option is available (2,000 yen/1h, advance reservation required).
---
Dine-in
The penthouse apartment comes fully equipped with a modern kitchen for you to prepare food at your leisure. We can assist in sourcing the finest local ingredients for you to create the perfect "Daisen Dinner".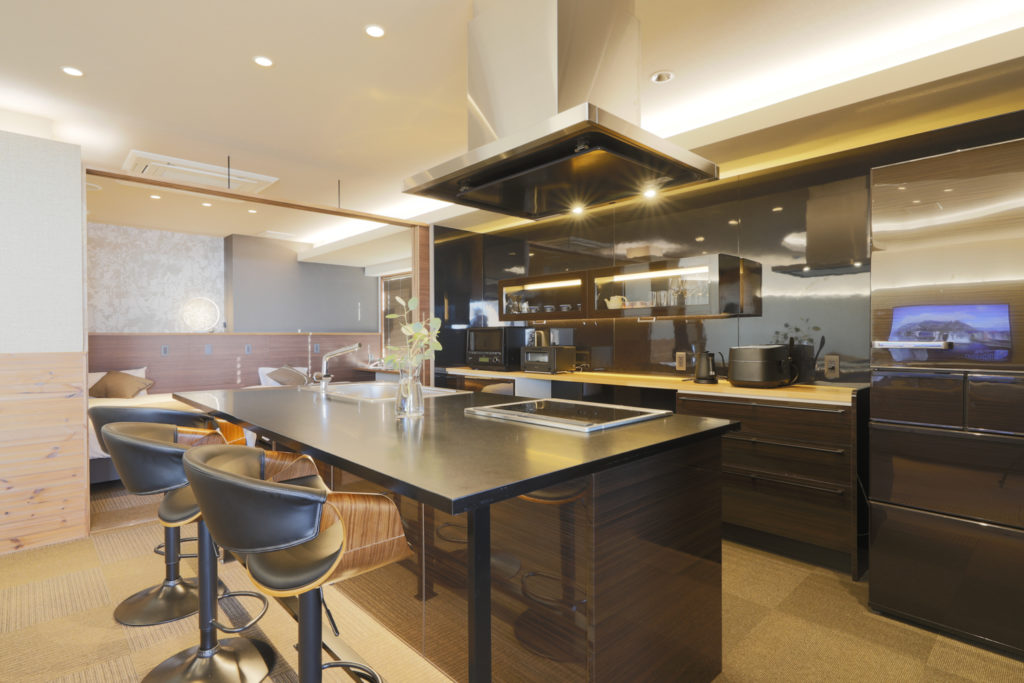 Alternatively, you can enjoy a BBQ on the balcony overlooking the magnificent scenery below. Let us help you purchase the finest local meats, seafood and vegetables. Please contact us in advance to organize this.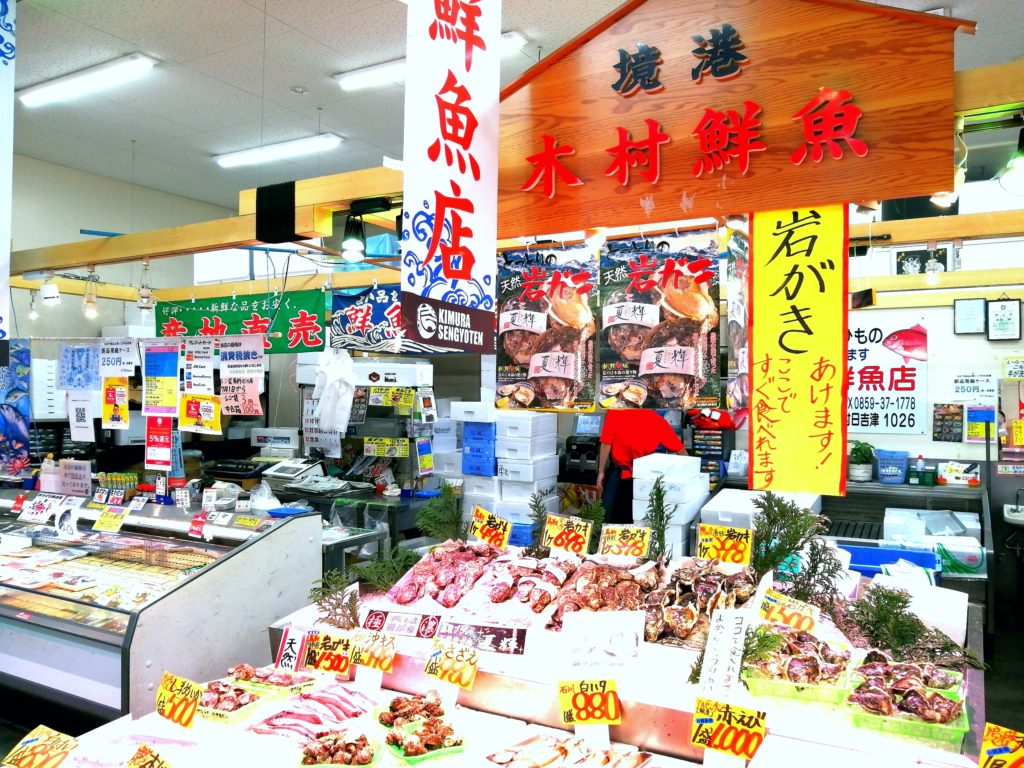 where to buy the best local produce and ingredients>
You can also order in a multi-course Japanese style dinner ("kaiseki ryori") which will be delivered to your room. A prior-reservation is necessary for this.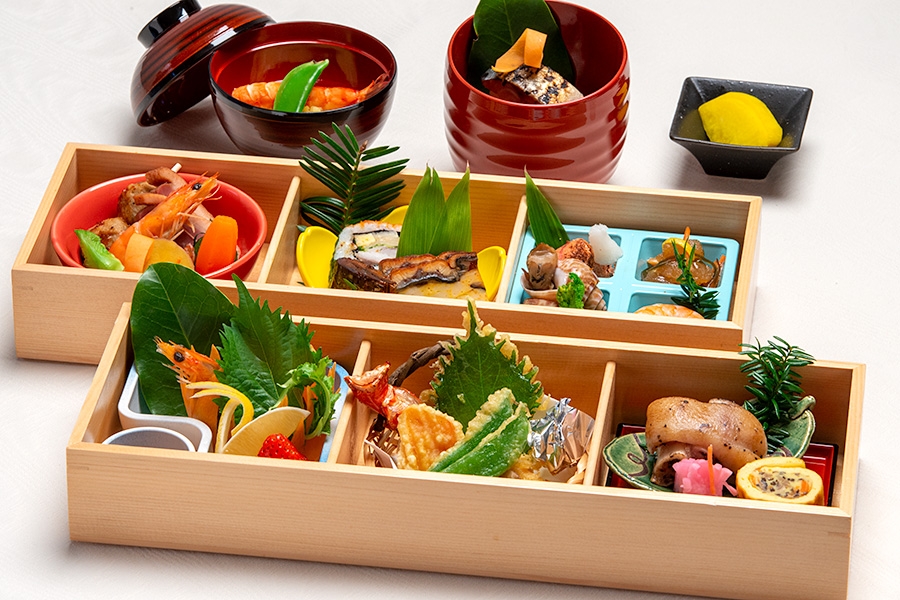 ---
Recommended Itinerary
[Day One]
| | |
| --- | --- |
| 16:00 | Check-in |
| 16:30 | Buy sake and snacks at "Daisen Sando Market", a couple of minutes walk away. |
| 17:00 | Walk to Goen Yuin (hot spring onsen) |
| 18:30 | Watch the sunset from your balcony |
| 19:00 | Dine at the near-by partner facility, Ryokan Kawadakaya. Feast on "Daisen-tori Chicken Charcoal Grill" |
| 20:30 | Relax with a drink in the guest room |
[Day Two]
| | |
| --- | --- |
| 07:00 | Morning walk to Ogamiyama Shrine and Kinmon |
| 08:00 | Partake in a "zazen" meditation experience at the affiliated facility, Shukubo Sanrakuso, and then enjoy a "shojin ryori" vegan breakfast |
| 10:00 | Check out |
By extending your stay to 2 or 3 nights, you will have the opportunity to fully enjoy outdoor activities such as mountain hiking, skiing and shower climbing. We recommend incorporating self-catered meals using locally sourced ingredients from the second night onward.
Booking
Book direct with us (through the link/button at the bottom of the page)
---