Made with their finest eggs! Delicious sweets at Kazamidori, directly managed by Ogawa poultry farm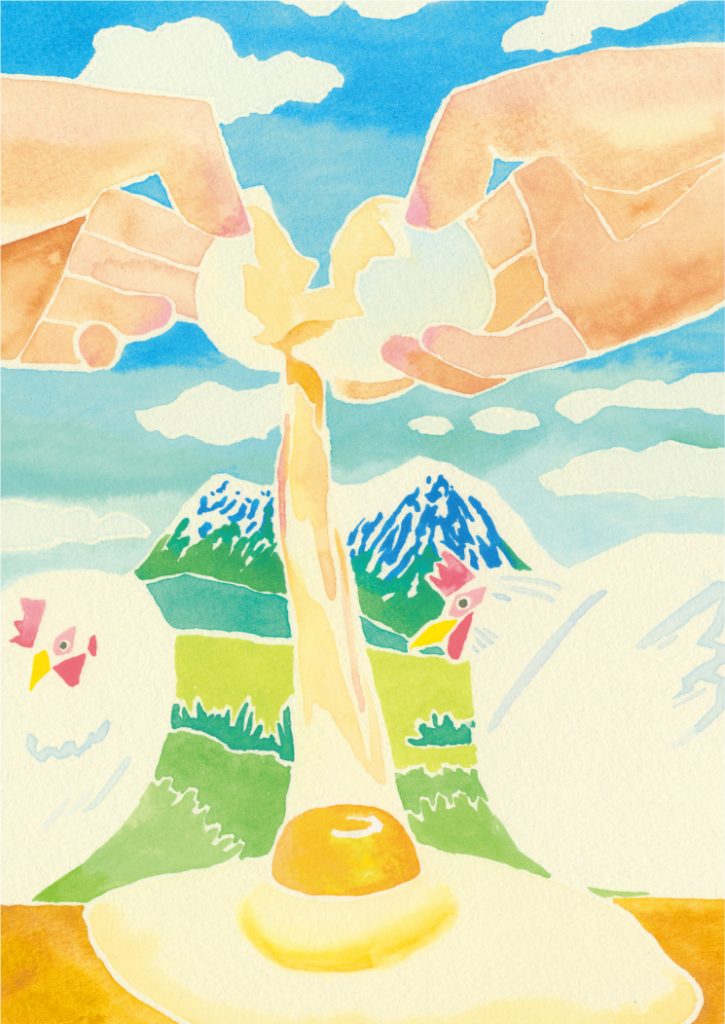 Getting off at the Meiwa Interchange, San'in Expressway,  you will soon see "Tamago-Ya Kobo Kazamidori" right by the roadside station "Daisen Megumi no Sato".  As "Tamago-Ya Kobo" (workshop of an egg farm) denotes, their specialty is eggs. Run by Ogawa poultry farm in Daisen-cho. What are the secrets behind eggs and making of sweets?  I went to Kazamidori to find it all out.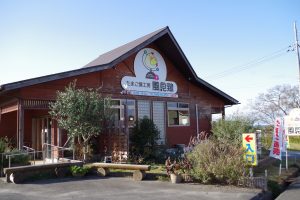 In a warm shop surrounded by wooden walls, those who welcomed me were Yosuke Ogawa, manager, and Akihiro Ogawa, representative director. The two are brothers, and together manage and operate Ogawa poultry farm and its company shop.
"The manager is in charge of Kazamidori, and I'm mainly looking after the poultry farm" says Akihiro san. To start off, I ask them about the history of Ogawa poultry farm.
Ogawa poultry farm came into birth in a rich natural environment of Daisen-cho, Kamo in Showa 35 (1960). Their father has started it. "My father used to be a vet in Gifu prefecture. Then he had paid a couple of visits to a poultry farm in Sakai Port. He then got married to the daughter of the poultry farm, us came into birth, and decided to build a poultry farm in Daisen-cho. Hence that will make me the head of the third generation" told me Akihiro san.
There were always chickens and chicks around the young brothers.
"The poultry farm was almost like a playground for us. We would carry chicks on our hands and put them into the circles. At the time we'd thought that we were playing, but thinking back now, we were in fact helping to move the chicks" says Yosuke san, chuckling.
One thing to care about is not to put stress on chickens.
The Ogawa brothers have inherited the farm from the father whose favorite phrase was "always think whether this is beneficial for customers". Hearing their stories, I leant that they are actually thinking not only about "customers" but also "chickens" too.
The feed is one reason behind it.
"We mainly mix corns that have not been exposed to pesticide and anti-mold agent (non-GMO corns) with fish powder, oyster shells, and feed rice at our original ratio. We use sardines caught at Sakai Port for 65% concentration rate for fish powder. Eggs are also added, so to bring out some depth in taste. Also, we try to feed them as locally as possible, such as oyster shells from Hiroshima and feed rice from Nambu-cho, Tottori prefecture".
One point to take great care about is "not to put stress on chickens" says Akihiro san. The Ogawa poultry farm nurtures their chickens soon after they are born, not when they have grown up to a certain point.
Yosuke san explain to me with an example. "Talking in extremes, you can't suddenly take away chickens grown up in Okinawa to Hokkaido, and expect them to be healthy despite the climate differences. To avoid that, we start nurturing from two to three-day-old chicks. By letting them get used to our kind of climate, their immune system becomes tolerant".
Furthermore, they have installed open-air farm houses in which chickens can enjoy the sunlight and winds, nature and four seasons. It does take more time to manage because of it, he told me again with an example that "even humans wouldn't like to live in a window-less room. I think it's the same with chickens".
They are not snacks, they are eggs in different forms
Kazamidori is where you can thoroughly indulge yourselves in lovely eggs and sweets made of those lovely eggs.
Their absolute favorite is cream puffs (¥185). You can't get enough off this combination of rich and fresh custard cream and its crispy crust.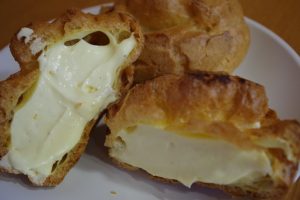 What's more, it's huge! Maybe as big as a soft ball. I ask Yosuke san the reason behind this sizing, he answer "our passion to have many people try our eggs as many as we can! left us with the size. In fact, I don't consider the sweets at our shop as snacks. I think they are eggs in different forms. Hence there are no sweets without eggs in it".
It's probably the same reason why eggs for the popular menu for lunch "Eggs over rice (¥200)" are bottomless.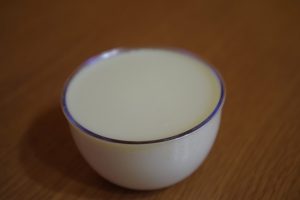 Another popular one is puddings (¥200). There are two kinds – a familiar yellow one and a white rice egg one. To bring out the best flavor of eggs, vanilla beans are not used. The simple ingredients of eggs, sugar and milk brings simple and silky taste.
Furthermore, they have sweets for enjoying the taste of eggs such as egg tarts and castilla, and seasonal products.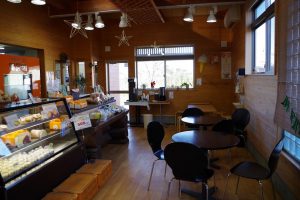 You might have imagined that you can get these mouth-watering sweets online …
"We do receive a lot of requests as such, but we also must not neglect the locals and try to sell outside. And, shipping makes it inevitably expensive. We also want to be particular about accessible pricing" says Akihiro san.
In fact, the only shipping destinations are within the prefecture. "Our job is to please local people" say the two ensemble.
Finally, I ask them what their goals are. Akihiro san first apologizes "for answering blandly", "to work hard day by day, and maintain the good quality. This is it. Our jobs are really trivial such as, to close the curtains as it's getting cold, or adjust the contents of the feed as the season changes. We would like to continue working with the perspective of animals".
Why not try the eggs and sweets made of those, of which have been made possible by working hard face to face with chickens? If you haven't, please do visit Kazamidori once!