Eat Iwagaki oyster & Sazae Turban shell in the best season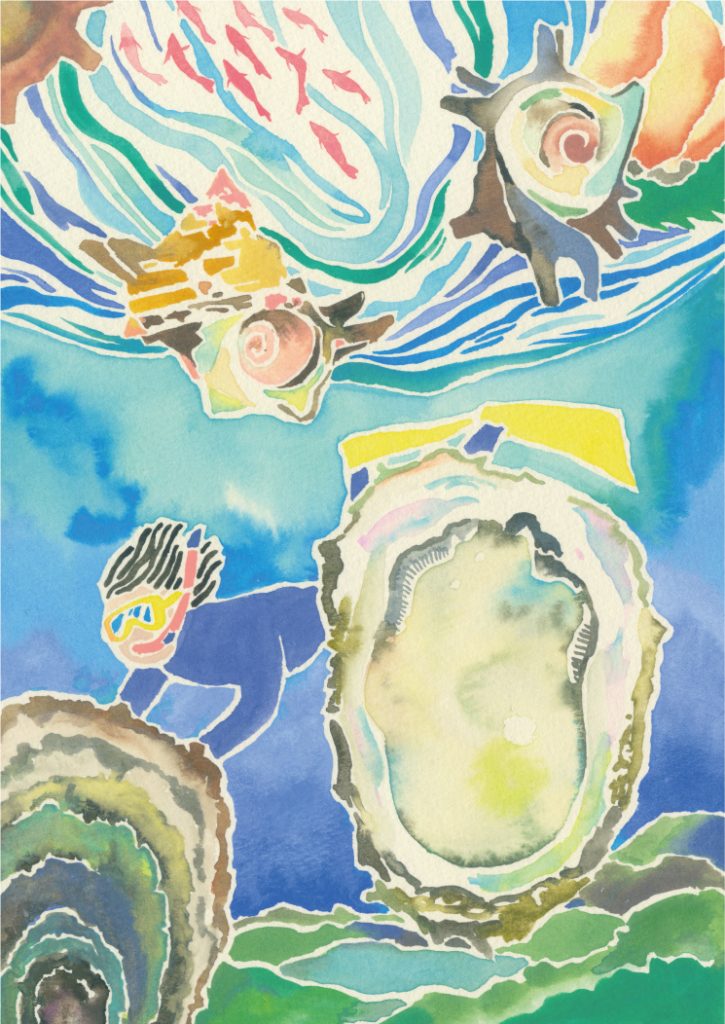 Daisen town in Tottori Prefecture facing the Japan Sea, obviously is a very rich seafood area, the Iwagaki oysters and Sazae are known for their exclusive quality.
Why does this place have enormously delicious food, attract people deeply?
We went to see a fisherman in town to dig in to the secret.
His name was Takayuki Nakamura. He moved to Daisen town from Saitama Prefecture and started "Fisherman Nakamura Corporation". First I asked about the fishing schedule of the whole year.
"January is the season for Sazae and abalone until May. During this season, seaweed will also start from March 15. Although seaweed ends in about May 10th, the Iwagaki oyster will start from June.The Iwagaki oyster season will last until about August 15th. and it is a scallop and an abalone since 7th and August so as to change again. "
All of these are schedules for diving fishing. They also go out for such as horse mackerels, snappers, flounders, filefishes etc when they have time to spare. by fishing boat. So, are there any tricks for catching "Iwagaki oyster and Sazae", which is the theme for today?
"First of all, rock oysters are in a brackish water area where seawater and freshwater mix together. We dive with a minus driver on the left hand and a 1kg hammer on the right.The point is where the sand and stone are mottled.The depth is about 3 – 6 meters.
Sazaes are in a place where seaweed grows thick. It would be no problem if the seaweed there were young, but when they're dying, the Sazaes will not cling. I have developed my own way to view the ocean floor by diving for many years, but there are still many things to learn from the ocean. "
Why the Iwagaki oysters and Sazaes are so delicious in this area? We received an unexpected answer when I threw that question.
"This land was formed by the lava from the eruption of Daisen which we one had. They are also blessed with good quality water flowing slowly through the ground, thanks to the existence of the beech trees in Daisen. Since lava contains a lot of iron, I think that Iwagaki oysters became delicious as a result of ingesting that iron.
When it comes to Sazae, the matter is totally about water, which we are thankful for the soft water here. A beautiful underground flowing water will grow delicious seaweed. As Sazae eats those seaweeds, that makes them also tastes delicious. "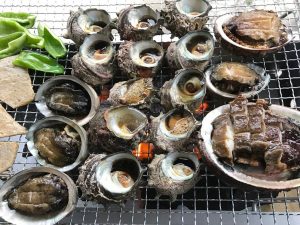 Mr. Nakamura was originally interested in such geology. He seems to have deepend his understandings by learning by himself of course, but also hearing stories from seniors and friends. As a characteristic of the taste, he expresses, "I can say that its more a clean taste than other places because of the fast tide.".
The Iwagaki oysters and Sazaes in Daisen Town are able to enjoy the original taste since they have a very clean and clear taste. I asked the fisherman the best way to eat them. It seems that unexpected seasonings matches Iwagaki oysters.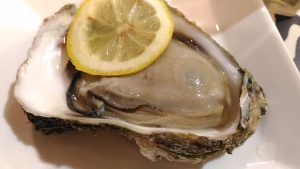 "First of all, Iwagaki oysters must be eaten in the exact best season. It is too early in June. Not even the beginning of July either. The best is from late middle of July to around 11th and 12th of August.It shouldn't hurt to remember this info. The best way to eat it is by raw. It is common to put lemon or ponzu, but actually Tabasco also goes well. Please try it once. A glass of white wine will make it even better.
Of course, frying is also delicious. Oyster fries are might as thought as winter dishes in Tokyo, but here it is completely for summer. "
Tabasco for oysters, it seems to be worth a try. Next, how should we eat Sazae?
"Sazae is recommended for ingredients of cooked rice. My wife often makes it when people gathers at our house. I personally recommend Tempura because the bitterness comes out when you fry it. It might not be enjoyable for everyone, but I love it.
Alchohol also goes with it very well. However, I am decreasing the volume in order to prevent it from remaining on the next day.
Oysters and Sazaes are amazing not just the taste but the usability of the shells after eating them. Mr. Nakamura taught us how to effectively utilize the shell at the end.
"Sazae is a distinctive shape that is said to be turban shell. You can't just throw it away after eating it. It can be made into a candle, or you can decorate your room by hanging it with a string for an example."
Of course, that is not all.
"We bake and crush their shells after washing it in the river. The shells contains rich calcareous nutrition, and we give them to people in the neighborhood who are engaged in agriculture with progressive minds. We are aware of the circulation, because we've brought them to the land for our own reasons, which were supposed to have died in the ocean and returned to the sea. So I feel irresponsible to just litter them as normal garbage without regarding to circulate it. "
Mr. Nakamura constantly respects the great nature and tackles the job of fishing humbly. Delicious Iwagaki oysters and Sazaes(Turban shell) are usually available during the season, so he stresses, "Please contact us!"
Mr. Nakamura, Thank you for everything today!