Spend all day with your family at "Akita Blueberry Farm"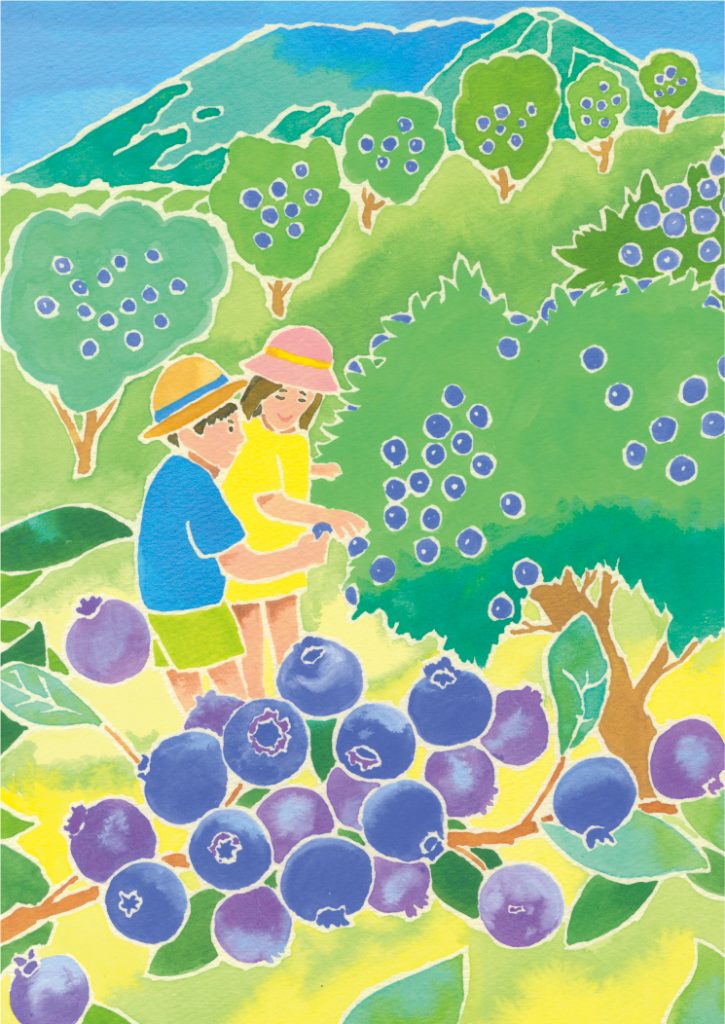 Speaking of Daisen many people think of fruits and vegetables such as pears and broccoli when thinking about Daisen, but actually I did not know until I began to live here that it is a specialty place of blueberries. A sweet and sour scent spreads around June blueberry farm, and if you look closely you see a lot of purple fruits in low height trees. "Akita blueberry farm" is located at the foot of Mt. Daisen at an altitude of 400 meters. Blueberries at this farm also have absorbed plenty of Daisen's water and are growing healthy.
This is from the owner of "Akita blueberry farm", Mayumi Akita.
"This farm does not use herbicide, it hardly disinfects agricultural chemicals. My aim is to really bring joy to children." Mayumi says. The reason for starting farming blueberries is when I got request from friends and acquaintances to purchase blueberries my parents made as a hobby. I quit my job and my responsibility as a parent also had quieted down, I also felt the possibility of blueberries and picked it into the farm. "I decided to go with a picking farm because it was really difficult to harvest all the blueberry by myself. If the customers harvest the blueberries themselves and eat them on the spot, I feel it will bring the most joy, wouldn't you think so?" Mayumi said smilingly.
In order to make it a fun farm compared to anywhere else, when opening up the farm, we had increased it to a 40a to a 20ha. Blueberries were still unknown in this area but as acquaintances and friends increased and with the upcoming Bon Festival (Day of the Dead) business started booming. Our family began to increase the farm after more demand and had become a full-fledged farm 15 years ago.
All-you-can-eat if you pay the 300 yen admission fee at the picking farm! "Not to mention it is very cheap! People who come to eat here are getting great deals." said Mayumi. "There is no time limit and you are allowed to bring a lunch box for a nice picnic. These blueberries will be a nice dessert for lunch. You can visit around Daisen, and maybe if you are lucky, you might see some rare insects such as the stag beetle.
"Many people tell me that they will show up with their children in the summer. But it is best if you come every month as there are many variations of the blueberry such as the size and taste in the Akita farm. Every season is a good season to stop by!"
In Akita Farm, we focus on blueberry picking experience as well as selling processed goods. I recommend the the blueberry royal road Jam. It is the most popular souvenir item of Akita farm. It seems that all of these jams are handmade by Mayumi. Stating "If you make jam with a machine, the grains will be too small!"and "Blueberry jam should be filled with blueberries in full!". And it is surprising that the sweetness is just right. It is moderately sweet even for me who is not fond of jam-specific sweetness. This is not too sweet Jam is a big commitment to make for Mayumi.
Many people thought "With blueberry already too sweet, making a jam is too sweet to even put on yogurt or ice cream" But among friends and family, it has seemed that many people do enjoy the moderate sweetness of this jam. This jam is actually sold to a popular scone and donut store in Yonago city. You may have eaten this jam without even realizing it. It is used in blue berry chocolate and blueberry pound cakes. It is even sold in stores near the train station and is one of the most popular souvenirs around these parts.
"I want you to understand the taste of Daisen's blueberries and I want to expand the possibilities of blueberries," she said powerfully. To have a relaxing time picking blueberries, please do visit Mayumi's farm and expect to see her smiling face and her delicious blueberries.