Climbing Mt. Daisen – so many ways to have fun!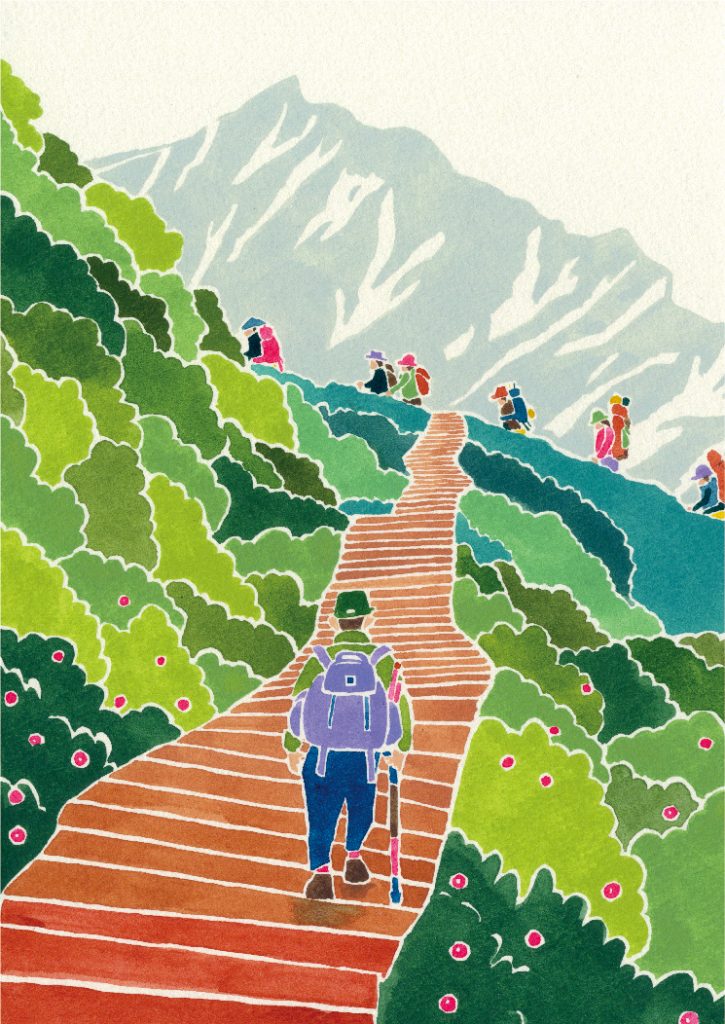 I'm not great at climbing mountains. It's been three years since I started living at the foot of Daisen, and the only time I climbed the mountain was when I first visited this town 5 years ago. At the time I was forced to climb it by my husband, who loves mountain climbing.
It was the first time I'd climbed a mountain since elementary school. It took about four hours to reach the top, and I somehow made it, but for some reason it took over five hours to come back down. We were left behind by the other climbers, and it was dusk by the time we reached the bottom. My husband often jokes that he was worried that it would get dark by the time that we got down. Come to think about it, it was the highest mountain I'd ever climbed.
When I caught sight of the Sea of Japan from the summit, my tiredness disappeared as I was overcome by the beautiful view. I still remember that feeling.
But the difficulty in climbing the mountain left a stronger impression. It's certainly not an easy mountain to climb. So what draws people to climb it? And how can one make the most of the climb?
I spoke to Mr. Kuruma from the Daisen tourism office. He holds various activities and works as a guide for Daisen. Of course, he also loves climbing Daisen himself.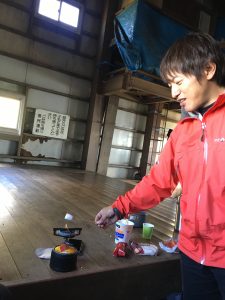 "I often climb at night. Usually, I leave around 2am. I reach the summit around 5am and enjoy the sunrise." He says that sunrise from the top is magnificent. I tell him that climbing at night seems difficult, but he replies "It's not hard as long as you choose the right season. In summer, you can get exhausted climbing in the heat, but at night it's cool and not too tiring." It seems like it is quite easy to see the path when climbing Daisen at night, as long as you wear a headlight and search what track you want to take beforehand.
Hearing this, I felt that even I could do it. I mentioned that now I really want to see the sunrise, and he said "Once you discover the enjoyment of climbing Daisen throughout the different seasons, you'll get hooked! How old is your child?" I replied that they are three years old, and he replied "Another appeal of Daisen is that it is easy for kids to climb. If you go slowly, even a five year old can climb it!"
It seems like almost everyone living around the mountain has climbed Daisen before. This is because most schools hold events to climb the mountain. The mountain, full of nature, is also a great place to learn.
"When climbing a mountain, your eyes naturally look at the ground. If you're climbing in Autumn, you'll see Autumn foliage on the ground, and I often discuss with my friends what sort of tree we think the leaves are from. We also play games where we look up and guess what trees we can see. Even adults can get quite excited about these games!"
He shared with me unique ways to enjoy climbing Daisen that only a guide would know.
When I asked if he had any other suggestions about climbing Daisen, he said "If you leave to climb Daisen at around 8am, you'll arrive at the summit just around midday. Enjoying lunch at the summit is lots of fun. You can bring a gas burner and pot with you and make cup ramen! Even with just a simple meal, eating while enjoying the view is awesome!"
He had much to say about "cooking" on the summit. He boils sausages and brings potato chips – the bag expands due to the difference in air pressure, which kids find amusing. "It's great if you have coffee as well. Coffee brewed on the summit is perfect." It sounds like a wonderful luxury.
"I've spoken a lot about fun and positive aspects, but mountains can also be scary. You must keep this in mind. It is important to always register the fact that you are climbing the mountain and to dress appropriately. There have been accidents on Daisen in the past. Check the weather in advance – we offer snowfall information etc. at the Daisen tourism office."
He then added that "the mountain is alive". As the mountain is alive, he encourages climbers to take their garbage with them and protect the natural environment.
After speaking to him, I felt like climbing Daisen, seeing the beautiful view and enjoying some freshly brewed coffee. I hope you do too!
Daisen Tourism Office's Tour Desk offers a "Daisen Trivia Climb" program, which is popular with first-time climbers, and those who want to know more about Daisen's natural beauty. For those not confident enough to climb the mountain, there is also a "Souhei Course Trekking Tour" on offer.