Superb view of another world in 10 minutes!Goenzan Noroshidai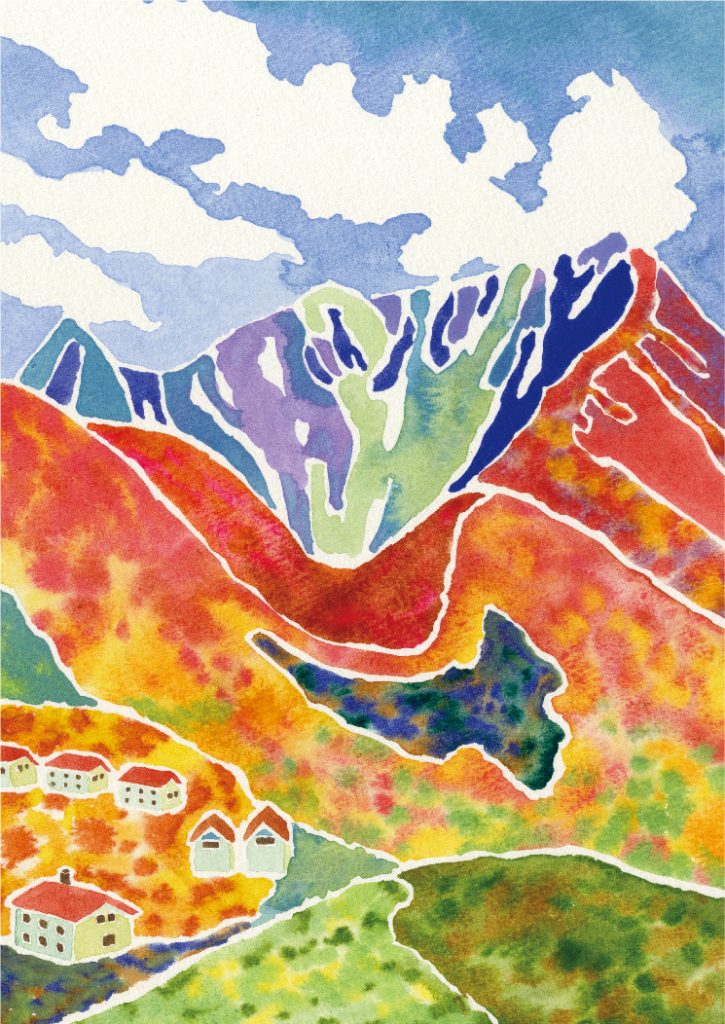 There are several spots known to offer superb views in Daisen, and Goenzan Noroshidai is known by "in-the-know" Daisen residents as an excellent spot. It has been three years now since I moved to Daisen, and I feel lucky that in just three years I have come to know of such a beautiful, calming place.
It was the day of my daughter's first birthday. I mentioned to my husband that I would like to take a picture at a scene of natural beauty to commemorate this, but we could not decide where to do this. When discussing this with a friend, they wondered "How about Noroshidai? You can walk and climb with your son as well".
Noroshidai….such a grand name! I was quite laid back, thinking that it wouldn't be too bad even if we couldn't climb it. Where we were going was the foot of the Goenzan ski resort. This is where the entrance point to climb Noroshidai can be found.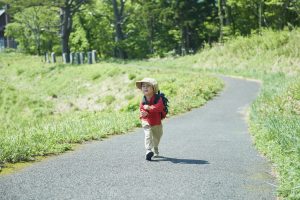 The weather was fine, and we set out as a family. My two and a half-year-old son ran with all his might. My daughter, just turned one, could only toddle along, so my husband carried her. Although I was a bit anxious about my own staying power, given my lack of exercise normally, I soon felt relieved and that everything would be OK along the calm slopes.
"You will get to the view point before you know it, so just keep walking straight ahead!"
I walked single-mindedly forward with the advice of my friend ringing in my ears.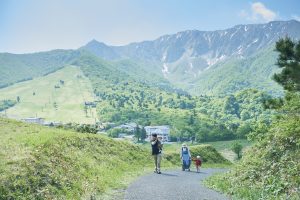 Along the path, there were plants notifying us of the coming spring, such as mountain germander and dandelions, and my daughter stretched out her hand to touch them. The dancing clouded yellow butterflies chased my son around, and he frolicked in the spraying fluff of the dandelion.
While doing this, the time shot by. Even walking with children, we reached the view point in about 10 minutes. Looking back, the north face of Daisen spread out before us. The bottom edge of this was a ski slope thick with blue and green.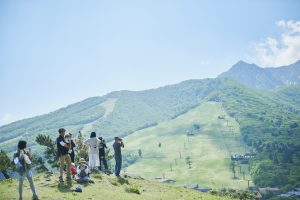 This was such a peaceful and soothing view. My husband and I both unconsciously let out an "Ahh!" sound, revealing emotion that could not be expressed in words. My son turned to the north face and called "Yaho!!", but unfortunately his two-year-old voice did not echo back.
As far as the eye could see, we played on Noroshidai, and as we were about to descend, cyclists came to Noroshidai on their bicycles. My husband seemed envious as it looked fun to go down the path by bicycle as well.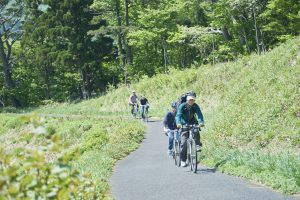 Noroshidai is often described by words such as "pastoral" or "Scandinavian". I am not sure exactly what pastoral or Scandinavian mean, but it is certainly a view that is both soothing and calming. I hope you can take the opportunity to see it.