The Beer Hop Gambarius Where You Can Taste Beer That Skillfully Combines the Philosophy of the Creator and the Blessings of Daisen!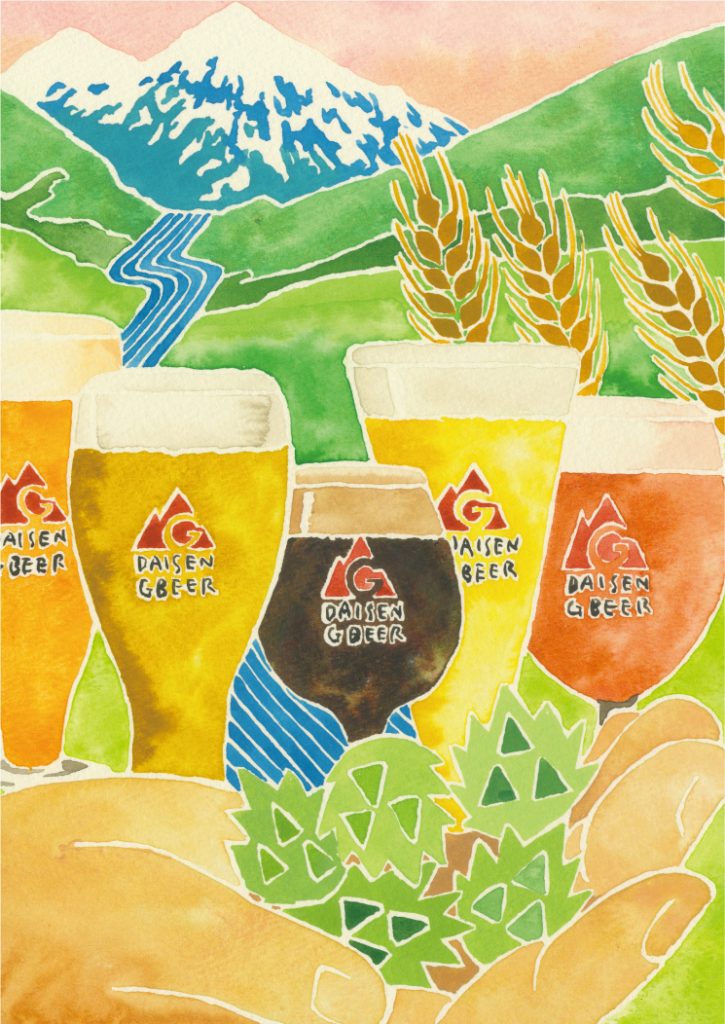 This is the "Daisen G Beer", which, spurred on by the boom in craft beer, has fans not only in the San-in and Chugoku regions, but all over Japan. The "Beer Hop Gambarius" restaurant erected next to the factory not only includes, of course, freshly brewed beer, but is also a noted gourmet spot in the Daisen area, where you can enjoy food that compliments the beer perfectly. This year marks its 20th anniversary since opening, and we asked Mr. Hideki Iwada, who has served as the Head of the factory creating beer since its foundation, about the attraction of Daisen.
"You can really feel how good the water is"
These were the responses we got from Iwata, when asking him what he considered the attraction of Daisen to be as a brewer.
"We are blessed with wonderful water. We want you to drink beer that is imbued with the Daisen meltwater, filtered by nature over many years, that is to say, we want you drink from the foot of Daisen. It is very important whether there is a story to the water or not. Location is one type of taste. In the future, will you remember when drinking our beer that 'at that time, I was speaking to that person about that topic in Gambarius…'? That is truly valuable when enjoying beer. " Alcohol is a drink that produces emotions, so the story and the memories are precious.
Iwata, who is from Matsue, joined the company after studying and graduating in microbiology at Shimane University, "I had, in fact, intended to work in a sake brewery in Matsue, but I was told 'it seems they are starting to make beer in Daisen', and I applied for the job. That was because personally I preferred beer to sake". Since then, for the last 20 years, IwataIwataittle while now, they have carried on the theme of "expressing the seasons with beer". When I asked about that…
"Here, we have the local, original barley known as "Daisen Gold". This is planted at the end of October, and harvested around May or June, thus producing beer in summer. Additionally, "Yasato" using sake as the secondary raw material is produced from winter to spring, after cultivation in the fall, and "Weihen Hop", made using hops, is completed in the fall. In addition to knowing the raw materials well as we produce them ourselves, we would like to provide beer with a seasonal feel".
These seasonal-limited beers, such as Daisen Gold, Yasato, and Weihen Hop are provided by Gambarius as soon as they become available. "I wonder what kind of limited beers they have now?" This is something you can look forward to while visiting. There are, of course, also the classic styles that you can drink the whole year round. Weizen, that has shone throughout the world at prestigious events such as the WBA (World Beer Award), Pilsner, refreshing as it slides down your throat, comfortable ales with the fragrance of citrus fruits, and stout with its malt-derived sweetness and fragrant charms. There is also the "G beer set" with 100ml of each of the four varieties, allowing you to enjoy each type a little at a time.
Additionally, this is in the synonym Gambarius, but they offer a 1000-yen all-you-can-drink plan, which is rarely seen elsewhere. Twice a year in spring and fall, an all-you-can-drink plan, without a time limit, is offered for limited types of barreled draft in addition to the classic four types. At such a time, Gambarius, at an altitude of 300 meters in the mountains, becomes extremely crowded, so it is necessary to book at an early stage.
With Gambarius, even if you drink beer for which the color and taste is different, what really strikes as you as odd is that even though the beer style is completely different, there is the feel of Daisen G Beer about it. When I asked the factory head Iwata about this, he said…
"Whatever style we produce, I am aiming for a balanced, mellow taste. I suppose we can call this a "gentle taste"? If we represent this as a color, it would definitely be white. Since I visited as a child, my image of Daisen has been white." When he said this, I was struck by the fact that Daisen G beer has a consistently pure, unadulterated, image that means you never get tired of drinking it.
Iwata states that he would like to try sometime creating a completely Daisen-produced beer. "Not only the water of course, but we are already raising the malt, hops, as well as the secondary raw material, rice, and so all that is left is yeast taken from Daisen. Moving forward, I would like to continue my love affair with beer, and produce a beer even closer to the image that I am aiming for.
Domestically, the history of small-scale brewery-produced beer started from the deregulation in 1994. Called "local beer", named after local sake, this became known as "craft beer" from around the middle of the noughties. I feel that Daisen G beer, while being a "craft beer" imbued with the care and feelings of the brewer, is also a "local beer" that utilizes the taste and story of that location when creating beer. I hope that you will have the opportunity to visit Gambarius and enjoy excellent beer, while experiencing the feelings of the producer and the blessing of Daisen.