Exploring Nature: Stream Climbing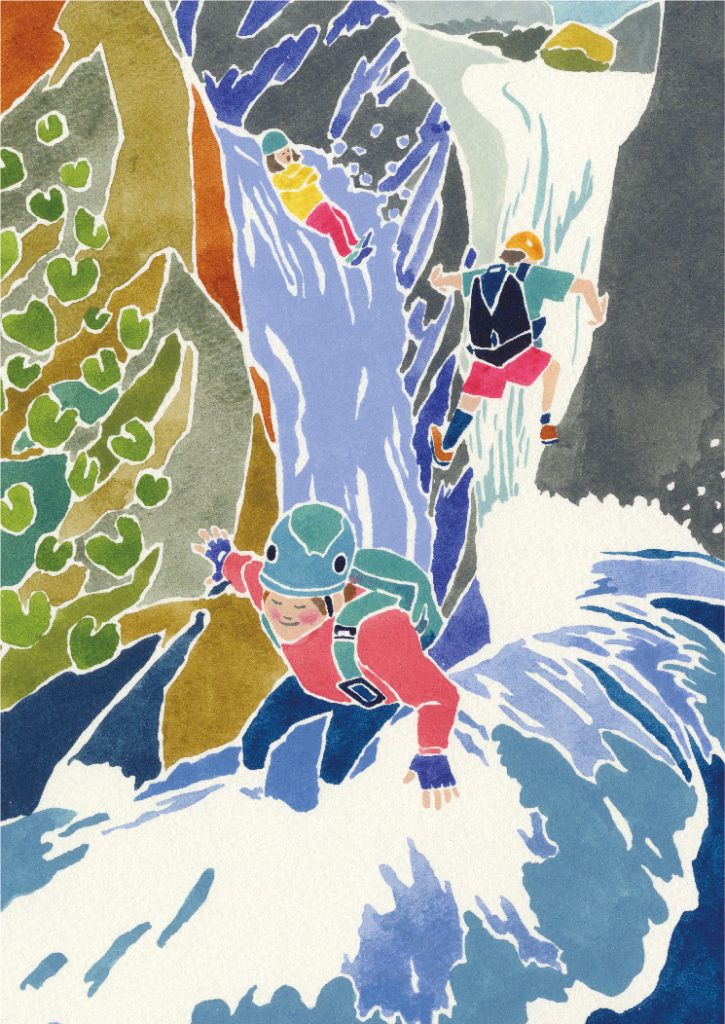 I gently soaked my foot in the river and as I felt the stinging pain of cold water, I softly exhaled, realizing the coldness of a natural river.
I am at Amida-gawa River in Mt. Daisen. I decided to try stream climbing, which I heard was very popular activity, to make the most of this hot summer weather.
When I left town, it was sweltering hot. But when I stepped out of my transfer vehicle, I was surrounded by greenery and the place was relatively cool. This indicated that the altitude was obviously higher. As I was approaching the river, the temperature dropped little by little. When I felt that the river was very close, I lifted my eyes and at that moment, the most transparent stream I have ever seen appeared before me. I looked at the sparkling surface of the water while listening to the soothing sounds of the stream. I thought that was more than enough to make me happy.
"Let's go into the water," said the instructor. It was time for me to take that first big dip into the river. I uncontrollably shivered from head to toe. "It's cold!" "Wow!!" People raised their voices and screamed one after another. The coldness of the river seemed unbearable to me at first. It is said, however, that you can gradually get used to it by continuously walking in the water and that you can never get used to it if you don't withstand it and keep going in and out of the river. I couldn't believe these words. Although I doubted, I had no choice but to stretch my patience. I kept walking in the cold river, and then I became numb to the coldness in less than five minutes. In addition to that, I started to be able to look around and pay attention to others.
The river is situated between cliffs and is covered with lush and vivid greenery. I heard the birds singing so I naturally looked up. This helped me notice how the harsh sun that glared a few minutes ago had turned into a gentle warm light supporting our adventure ahead.
With the sunshine supporting us from behind, our adventure began. The river looked like an ordinary stream at first, but it revealed its various traits as we progressed.
At first, the water is so calm and easy you could sing "Easy-Breezy" as you wade. But then the bumps of steep rocks suddenly appear and form a cascade. These rocks can drastically change the strength of the current. For this reason, you need to stand firm in the water and not be overpowered by the rapid flow. Whether it be someone you just met, you need to grab a fellow tour member's hand to overcome the difficult spots together. As you progress, your first thought of wondering why walking and climbing in the river is that interesting disappears as you wake up to the realization that you are physically encountering nature head-on and living that very moment.
And as you naturally help people you just met and receive help from them, you develop a sense of "connection." This reminded me of the inborn feeling of joy and the innate power possessed by humans, which we tend to become insensitive to in our daily lives.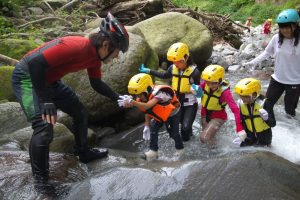 Later on, we got drenched by climbing up a waterfall as tall as my height (170cm), and were almost swept away by the rapid stream that we could not even stand still in. But in the end, we reached our goal. Everyone was completely wet, but was full of smiles. I was fully satisfied reaching my goal together with fellow team members after the struggle of traversing through unfamiliar nature.
Confronting nature head-on might be the only time to fully remember our senses and instincts which are easily numbed by the luxuries in our life. I had of course never experienced that and I think that it is good to arouse human instincts this way from time to time.
As we were leaving, the instructor commented, "There is a river that is more difficult to climb than this one." The river is said to have a waterfall basin so deep you cannot reach without swimming. It also has a rock that rises so high you cannot go over it without climbing with your hands and feet. "I will come back again next summer." I decided as I left the commanding clear river.
【Here you can experience 】