Daisen Okowa ~ Keeping the traditional Daisen Okowa dish alive at Yayoi no Kazé~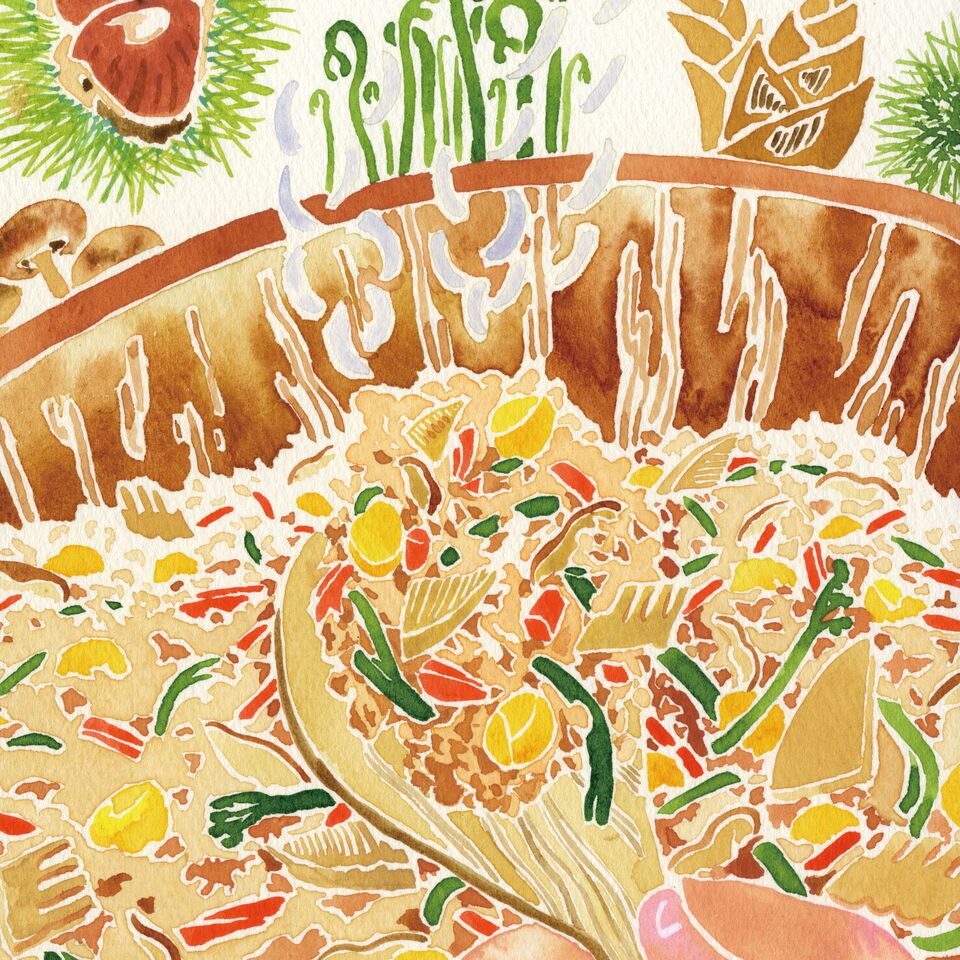 As the snow still remained in one early winter morning, I came to a small restaurant that took my interest. When I entered, the room was not warmed up yet. Allured by the pleasant smell of broth and rhythmic beat of kitchen knives, I went into the kitchen in the back of the building.
There I found two ladies cooking with enthusiasm and energy. I was instantly amazed by their culinary skills and great teamwork.
The restaurant is called "Fureai Salon Yayoi no Kazé", literary meaning "Socializing Salon in the May Breeze", and it is located very close to Daisen-guchi Station on JR San-in Honsen Line. The story began when a group of local ladies transformed a closed down shop into this restaurant and ever since, it has been loved by the locals. There are 15 members who take turns preparing delicious dishes.
Staff & customers' handmade goods are displayed all around in the restaurant, creating a warm and welcoming atmosphere.
Toshie Sageshima (82) and Hiroko Inoue (72) were the chefs of the day. They are experts of Daisen Okowa.
They cut up all the dried Shiitake mushrooms, carrots, burdock roots, Chikuwa fish sausage and chicken into small pieces very skillfully, and then steamed glutinous rice. Since the big beautiful Japanese chestnut is Daisen Okowa's signature ingredient, it is harvested and processed every fall by the restaurant staff and frozen to be used for the coming year.
I observed the whole process of making Okowa. It obviously requires time and skills. I couldn't even keep up just looking at what they were doing.
At last, steamed glutinous rice was mixed with seasoned ingredients. Delicious shiny Okowa was ready. The kitchen was filled with pleasant aromas that made my mouth water.
"I cannot change the recipe because I will be blamed by our former master chefs" said Sageshima-san with a big smile.
Daisen Okowa has been loved by local people for generations and is known as the hometown's traditional food and taste of mother's cooking. Now, not many people make Okowa at home. "The Daisen Okowa I make is a 100 year-old recipe. There are lots of other recipes, but many people like this one the best." said Inoue-san. There are many people who come from in and outside of the town just to enjoy this Okowa. I saw one man buying 6 packets and another older lady buying a packet for her neighbor.
There is only one lunch menu at Yayoino Kazé: Today's Special for 600 yen (tax included). When I visited, it had Daisen Okowa, salted mackerel, seasoned vegetables, vinegared vegetables, stewed vegetables with Konnyaku and some pickles made by Inoue-san. The mackerel's salt was not too strong and side dishes were mainly made of winter vegetables such as radish and Daikon. All the dishes were handmade and ingredients such as vegetables and rice were brought by staff and neighbors.
"Please add the Daikon pickles I brought!" said one of the ladies. "Shall we add another side dish which goes well with mackerel?" The conversation among the staff was filled with love for the food and customers. The food here is not glamorous, but surely touches people's heart. I'm sure you've heard this so many times before but this is truly "Ofukuro no aji" (taste of mom's cooking).
Yayoi no Kazé not only focuses on the flavors of the dishes but also on the nutritional balance, colors and presentation.
The staff are very friendly and close to the customers. On the day of my visit, a regular customer called "Shocho-san" (manager) was there and I could see how Sageshima-san and Inoue-san were very familiar with his food preference.
The two ladies were very nice to all the customers. They catered hot tea and talked to every customer. "If you need more tea, just let me know." "How was the Okowa today?" "It's very cold. You should keep yourself warm and eat more." When I was there, a group of grandmothers, some middle aged neighborhood workers, neighborhood mothers and a family had lunch there. I myself go to Yayoi no Kazé at least once a week. When I first visited, I felt a little out of place, but my worries disappeared immediately. All the staff and customers here are very nice. People come to this restaurant to have a good relaxing lunchtime socializing with others. If you are a tourist, you may be a bit nervous at first, but once you sit at the table, you are treated as a friend. Daisen Okowa and side dishes are superb. Why not have delicious lunch together?
【Fureai Salon Yayoi no Kazé】
Kuninobu, Daisen Town, Seihaku-gun, Tottori Prefecture
(Next to JA Daisenguchi Branch)
Telephone: 080-1901-4164
Business Hours: 10:00am – 3:00pm (number of meals limited)
Closed: Saturdays, Sundays and National Holidays
(Please contact the restaurant for Obon [mid-August] & New Year's holidays)
*Daisen Okowa only available on Thursdays from October to April
Parking space available