Daisen's Historical Landmark – Mukibanda Historical Park
The "Mukibanda Yayoi Settlement", a national-designated site, is a peaceful hillock at the foot of Daisen, and is a large-scale settlement from the Yayoi era formed in the undeveloped woodland around the town known as "Bandayama".
More than 400 pit dwellings created from around 2000 to 1700 years ago and large quantities of earthenware created by the Yayoi people have been excavated, and this is said to be the largest Yayoi village in Japan.
Nearly all of the Mukibanda settlement is designated as a national settlement, and a settlement survey is currently being promoted. Additionally, it has become established as the "Tottori Mukibanda Settlement Park", to allow many people to view the settlement, and it is attracting a lot of visitors, including tourists and local people.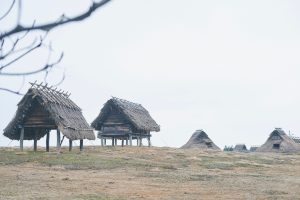 This settlement park is one spot I frequently visit with my children. It is approximately 30 times the size of Tokyo Dome. It is apparently the largest settlement from the Yayoi era that you can see in Japan. The settlement has been opened as a park, and many people, including local children, visitors from outside the prefecture, and tourists from overseas, are visiting.
On this occasion, we caught up with Hamamoto, who is in charge of the survey activities for Mukibanda settlement. When I asked what was so great about the Mukibanda settlement, I received the reply that "there are many amazing things about the Mukibanda settlement. Firstly, there is the Mukibanda settlement area in the land around the low hills, which appears to have almost completely retained its original form without being influenced by any changes in the land. This land and location where the Yayoi people lived seems to have hardly changed at all. The beautiful scenery of Yumigahama, viewed from this land, and the vision of Komayama is unchanged from that time. Don't you think that is somehow romantic?"
Certainly, the view of Yumigahama as seen from the Donohara district of Mukibanda Historical Park is truly magnificent. In fact, I often make a lunch box and set out there with the kids. It is one of those amazing views you want to keep a secret. When the weather is good, you get a clear view of the Shimane Peninsula and Okinoshima Islands. In this Donohara district is a distinctive tumulus, known as the "tumulus with four corners protruding" that can be seen mainly from the Sanin and Hokuriku areas.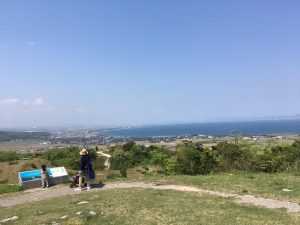 "Additionally, the pit dwellings in Mukibanda Historical Park have been restored, but a great deal of attention has been placed on the construction methods to enable you to really experience what life was like at that time", Hamamoto relates. To get close to how things were like at the time, stainless wire and the like was not used in visible areas, and techniques of the day have been reproduced. In the fields where the pit dwellings are, raised floor storehouses have been restored, and care has been taken to ensure that no modern items are put into that area. "We do have requests from visitors to put in vending machines or place more benches there, but as these were not present during the Yayoi era, we are asking our guests to put up with them not being there", laughs Hamamoto. Certainly, in the fields where the pit dwellings are, there is nothing but the dwellings and the storehouse. If you go in winter, the wind blows through, while in fall, the area around your feet is plush with tree nuts and chestnuts. If you take a walk in this dwelling area, which as far as modern people like us are concerned, we may feel is a field with nothing at all, it feels like a treasure hunt. There is this! And this! Things I have found in Mukibanda include propagule, tea plants, chestnuts, acorns, trefoil, raspberries, persimmons, …. It is not clear whether these all existed at the time, but it was clearly a very rich environment.
I was interested in one of the events in which the Yayoi era was reproduced in the field. The name of this was "impersonating life of people in the Yayoi era". In this event, you can experience all of their "clothing", "food", and "dwelling". "Actually, on this day we shall stay in the pit dwelling! The food also starts from a naked flame. Rice is cooked in earthenware, and we shall stone-grill barbecue deer or wild boar…of course, the clothes are the large draped clothes of the Yayoi era! This is recommended as a popular event for both tourists and local people!", Hamamoto says, giving it his seal of approval.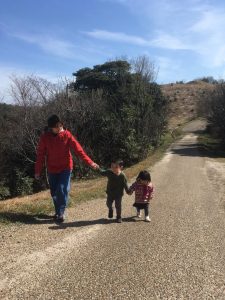 In addition to these Yayoi lifestyle events, you can experience many things from the Yayoi period in the park. On holidays, you can not only experience fire-starting, but also make earthenware or stone cleavers on a rotating basis. The cost is always very reasonable, and there are activities which you can participate in free of charge. I was able to experience these things with my children. There are things to try that will enthrall not only children but also adults as well.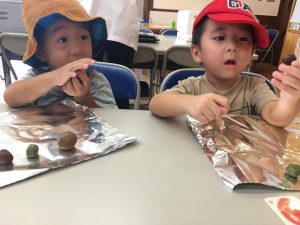 There is also free loan of motorized bicycles to enable you to tour the vast settlement park, and a wide range of interesting, regular events, such as study groups.
The Mukibanda Park enables you to perform a "time slip" into the Yayoi era. You can not only view, but try and experience many things. Won't you join us for this truly satisfying Yayoi era experience?