Goen-Yuin, a place for indulging in hot springs and delicious meals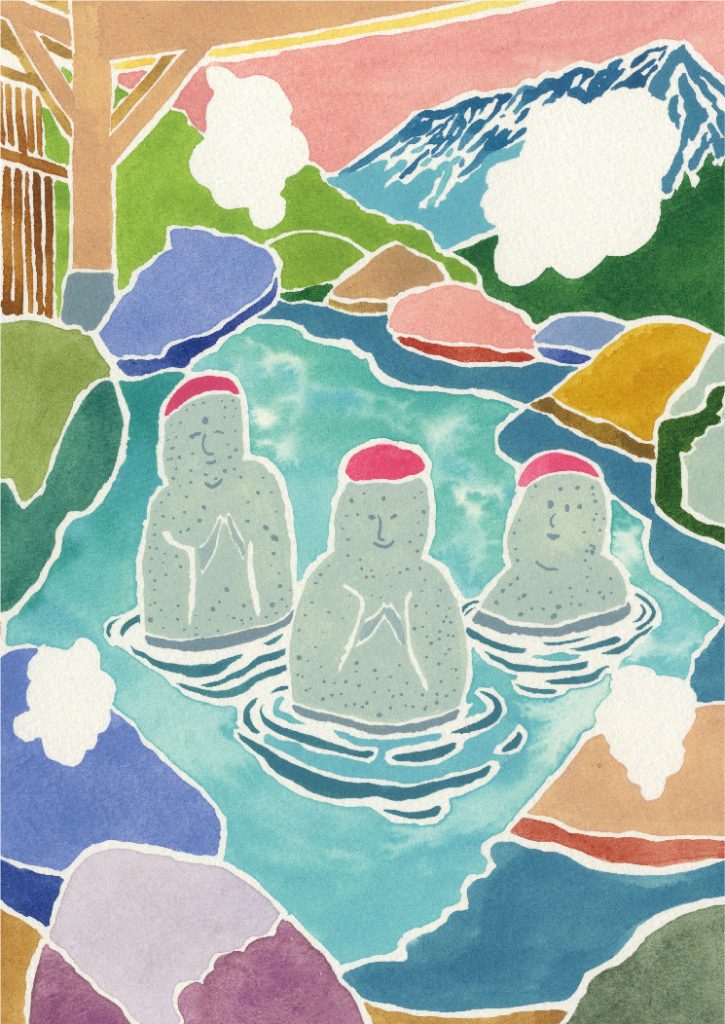 "Goen-Yuin" is located at the beginning of the approach to Daisen-Ji Temple. This is the only natural hot spring in the Daisen-Ji area. This is a simple alkalescent spring, one of the best content rates of redox potential in Japan.
It is the only facility with hot springs in the area, where you can dine and shop for souvenirs.
Take a close look at the signboard for Goen-Yuin, located on the approach to Daisen-Ji Temple. There is a drawing of Goen the Buddhist priest, who has revived Daisen-Ji Temple.
I am a huge fun of hot springs. Every time I come to Daisen, I would persuade my family and friends to take a bath there before going home. My 2 year-old son is also obsessed with hot springs. "Big bath, big bath" he would excite himself, running up the approach to Daisen-Ji Temple to get here. After the reception on the 1st floor, up we soon see a long corridor lit by modern lightings on the 2nd floor. Off we go, there is the bath. One hot spring inside and another one outside. The inner hot spring is made of stones, structured as though a cave, with its dim light denoting the air of calmness inside. The lighting is inspired by Shinto altar and bonfire, giving it a solemn impression. In open-air hot spring, Rosen-Buro, you can thoroughly enjoy the transition of each season – in spring and summer, the view turns green, leaves turn their colors in autumn, and in winter, snow outside.
Yoshiharu Murata gave us a tour around Goen-Yuin today. Mr. Murata is from Fukuoka prefecture. After working as a sports journalist and a event planner for the J league, he has moved to the Sanin region, where his wife is originally from. As I remark on his rather unique career, he says, "it is no different as every job was to please customers. When I was working for the J league, I would always contemplate on how I could entertain and make soccer fans happy, and I organized fan events for them". That's right. The reason why I always choose to go to Goen-Yuin is because all the staffs are very kind, and the baths are always clean and going there clean my body as well as my mind. This is all on account of every staff there including Mr. Murata is working towards achieving the goal "how Goen-Yuin can satisfy visitors' needs".
Goen-Yuin is proud of their hot springs to be "luxuriated with five senses". Sense of sight – gazing at bonfire; sense of hearing – listening to the sound of water falls; sense of smell – smelling the scent of hot spring, sense of touch – feeling the texture of hot spring; and sense of taste – tasting the hot spring. Sense of taste – you can also enjoy the food served here. The restaurant "Kami no Yu-Tei" is very popular among visitors, and one of their specialties is Tofu made in the natural host spring water. This sweet and tender Tofu is loved by the locals as well. They make sure that soy beans used are grown in Japan and contain no preservatives. "Since we are making it in the natural host spring water, we wanted to be particular about every ingredient, too". Besides their specialty Tofu, Kami no Yu-Tei also serves Daisen specialties such as Daisen steamed rice and soba noodles topped with wild plants.
The souvenir shop "Omiyage Goen" has Goen Tofu, Okara cookies and donuts, or Tofu cake, their original products that are delicious and comforting. I always feel tempted to shop a lot when I come here. Especially Okara donuts by the cash register are the best. Always sold out. You may be lucky to encounter one. A must tries for you all.
When asked what are the charms of Daisen area, Mr. Murata responded "I think it's to do with how different and new the town looks day by day, hour by hour. Never the same atmosphere it gives, always has a different vibe to it. When I was living in cities, I had never realized such a critical feeling". When I asked what he meant by its look changing every day, he went on "you know, even in one season, not a day goes with the same weather, right?". For sure, the look of Daisen changes every day. Its colors, smells and winds. But one thing that will never change is the hospitality Goen-Yuin staffs will give you. Their nice warm hot springs and their taste. Beautifully outlined shop, and warm smiles. Goen-Yuin's stunning look and its slow vibes in Daisen, where everything looks different day by day. Please indulge yourselves into the gifts Daisen offers you through five senses.